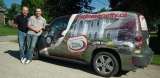 First Line Security is a provider of alarm, video surveillance and medical alarms serving midwestern Ontario.
Owner and operator Doug Berry has over 35 years of experience in electronics and customer service, as well as 15 years involved in the security industry. Doug is also a Certified Electronic Technician by the Province of Ontario.
Together with son Matt Berry, First Line Security is a family run business that provides top products and expert local service not available from large security groups.

Canadian Alarm and Security Association (CANASA)
Doug Berry and First Line Security is a member of CANASA, having achieved the highest level of alarm training from the national organization.
Our business is helping clients by providing quality equipment at a reasonable price to residential, commercial and senior customers. We also provide 24-hour monitoring of alarm systems by a ULC listed monitoring station.
These days security is essential to good business management, so whether you've got a problem or you're trying to avoid one, give First Line Security a call to find out how we can help you.
Doug Berry, founder and owner of First Line Security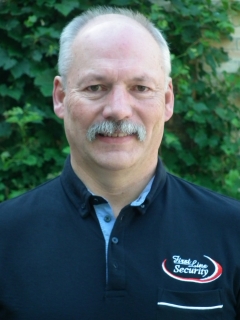 First Line Security is owned and operated by Douglas Berry of Walkerton.  He started the business in October of 2004.  He had previously owned an electronics repair business for many years. 
Douglas has lived in the Walkerton area all of his life.  He attended Walkerton District Secondary School and then received his electronic technician degree and started his own repair business.  He has three children.  A son, Jason who with his wife Suzanne and daughter Adrianne live in Vancouver.  His other son Matt and his wife, April along daughter Cali and son Levi live in Walkerton.  Matt and his wife had been living in Kitchener for several years but decided to move back to Walkerton to raise their family.  It was good timing as Douglas was getting busier and needed extra hands to keep up with the security and medical alarm installations.  Douglas also has a daughter April, and she lives and works in London.
Doug's wife, Marlene, takes care of the office and bookkeeping. 
Douglas believes that being local is very important and that word of mouth is his best form of advertisement.  If a customer is happy, they will recommend First Line Security to their family and friends.
Matt Berry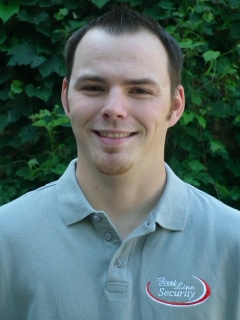 Matt Berry attended Walkerton District Secondary School.  After graduation, he moved to Kitchener to get his Marketing degree in Business administration at Conestoga College. 
He worked and lived in Kitchener for 5 years before returning home to work with First Line Security.  His previous job was as a Seasonal Department Manager at Home Depot. 
His wife April is an Esthetician.