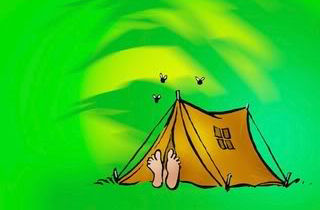 Camping Season is Here!
Whether you are staying close to home or travelling far away, roughing it or glamping, here are some safety tips you should keep in mind for your next excursion!
 
1. First Aid Kit: You can buy a ready made kit or make one yourself, just make sure it is fully stocked and is in a case that will stay clean and dry. Below is a link to the Red Cross, you can buy a kit from them or review their list of items that are included. https://products.redcross.ca/product/782/deluxe-first-aid-kit?gclid=CO2Yoaat3cwCFQEdaQodHioO2w
2. "Miscellaneous" Kit: This is an army trick I've heard of, so that you are prepared for any situation. Pack small container of things like Rubber bands, glue, extra shoe lace, extra tent pegs, bungee cord, extra batteries, extra flashlight, fire starter kit, etc. This way if a situation arises, you can MacGyver your way out of it with your kit of things you never thought you would need.
3. Do your research: Before you head out on your big adventure make sure you do some research. Know what wildlife is in the area, and tips on protecting yourself from them. Another great resource would be the park ranger, ask them if there have been any sightings of wildlife that you should be aware of so you can take extra precautions.
4. Be Prepared: You never know what situation you may get into so make sure you are prepared for all of them. Just because the weather network says it will be warm and dry doesn't mean Mother Nature doesn't have a trick up her sleeve.
5. Have fun: Camping is a great way to get out doors and blow off some steam, so after all your planning and preparing make sure to relax and have some fun!
6. Don't forget to set your alarm before you leave the house!

Happy Camping!